The XLM is designed as an agnostic currency token for borderless payments. It is an open-source, decentralized platform based on Stellar Consensus Protocol. It offers assets on-chain and connects users across the globe. It was supported by the Stellar Development Foundation, which is a non-profit organization. 
It has the same code of XRP, which was made public, but the main difference lies in the consensus protocol. Stellar uses lumens in the network, and it can be used as a currency on the platform. XLM was introduced to prevent spamming attacks. It also works as an intermediary when trading liquid assets on the decentralized exchange.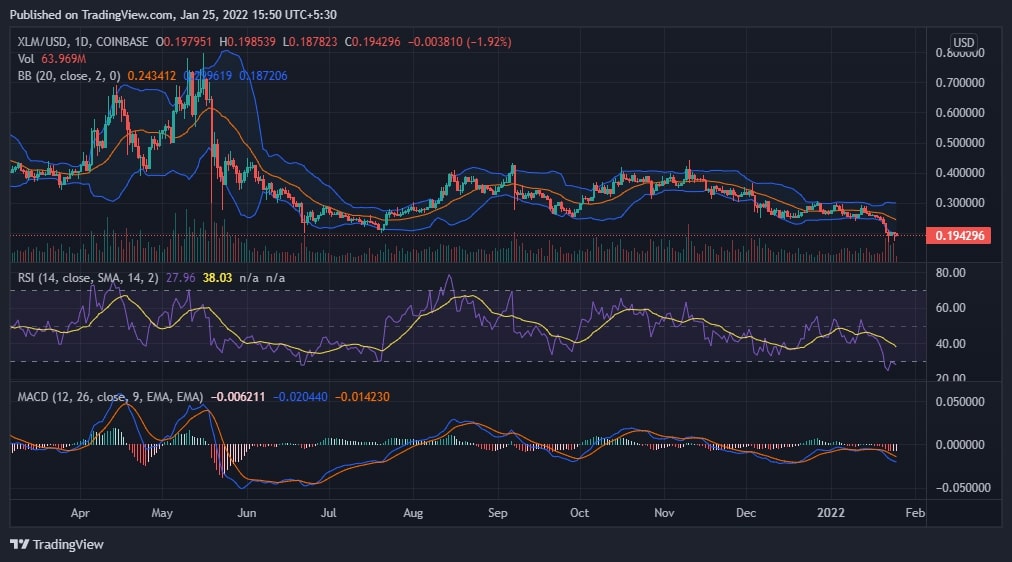 The XLM price is down from the last eight months, but analysts are hopeful for a positive return in the long run based on Stellar prediction. While writing this technical, XLM is trading around the price of $0.193. Due to global selling pressure, the chart is bearish. As it broke the support level, it is now hard to mark the next support level, but if it bounces back, the $0.28 level may work as a resistance level. It had a dream journey from November 2020 to May 2021. After that, the XLM price became bearish and never showed a sign of bullishness. Now, the only positive sign is the increase in trading volume. Will Stellar (XLM) change its momentum? Let's find out the answer by analyzing the indicators. 
On the daily chart, MACD is bearish; RSI is in the oversold zone around 20, which suggests the chart is bearish. Moreover, the last few candlesticks have broken the lower half of the Bollinger Band, so it reflects extreme bearishness. Due to some global reasons, cryptocurrency has been down in the last few months, and it will continue till the middle of this year. Many countries will release crypto regulations so that the price will be volatile in the near future. 
Should you invest in Stellar Lumens? Indeed the network has the potential, but it depends on the market adoption. We do not recommend you to buy XLM for the short term because the crypto market is down; you should go for more trusted crypto available at a lower price. For the long term, we think it has a great potential to provide a handsome return.