Tron (TRX), founded by Justin Sun, is a blockchain based decentralized operating system. It allows the users to create smart contracts as per their requirement & usability. The highly accessible platform claims to process over 2,000 transactions per second & working on further reducing the speed per transaction. It has been popular for its features including higher scalability, publishing content freely, storing data or info conveniently and securely. The usage of the crypto is increasing with each passing day as the platform is quite user-friendly and continuously evolving to accommodate the new requirements. The recent collaboration with one of the most stable coins of the crypto world, Tether (USDT), Tron has increased its followers, and if speculations are to be believed, it will be announcing many similar strategic partnerships soon to continue growing the list of users.
Current Statistics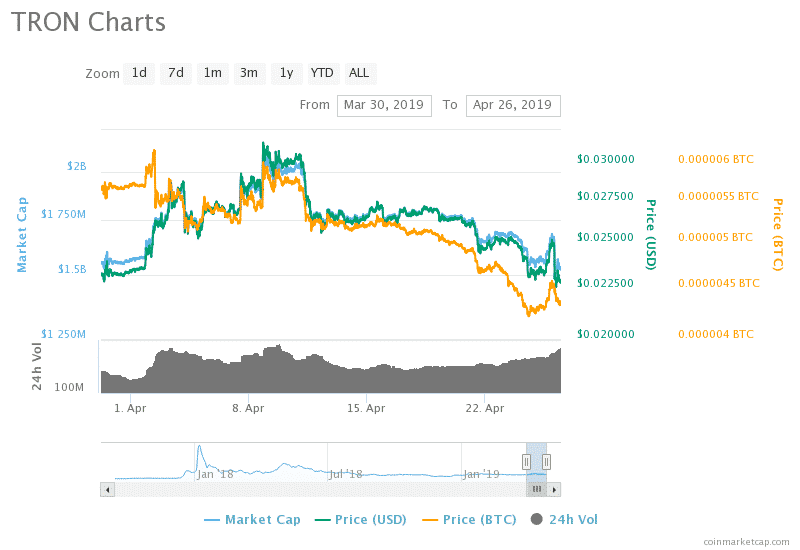 With a market cap of over 1,531,585,535 USD as on April 26, 2019, at 11:34:01 UTC, TRON is placed at the 11th position in the top 100 cryptocurrencies list by the CoinMarketCap. Currently, the circulating supply is 66,682,072,191 TRX, and the total supply is 99,281,283,754 TRX. The price of the coin is trading at 0.022 USD & 0.00000435 BTC, and 24 h volume is 729,047,440 USD. The ROI is measured as 1,018.90%.
Comparison
In the past 90 days, the highest price of TRX was recorded at 0.031 USD, and the lowest was around 0.021 USD. The highest has been nearly the same in the past 30 days as well and the lowest was 0.022 USD. The price has further dipped with the highest being 0.026 USD and the lowest being 0.022 USD in the last 7 days. As on March 30, 2019 at 06:49:03 UTC, the market cap was 1,555,113,657 USD, the price was 0.023 USD and 0.00000567 BTC and the 24 h volume was 273,184,227 USD. The downward trend of over -4% is expected to continue for the next few days after which the coin is anticipated to perform better.
Prediction
The latter may have declined the recently tweeted partnership by the CEO of Tron with Liverpool, but it is surely a sign of the giant leaps of progress made by the crypto in a very short span of time. It won't be wrong to give some credit to this increasing popularity to the CEO, Justin Sun himself for being always an enthusiastic cutlet on the social media space keeping the users & followers informed about all latest developments. This sure is a very good form of marketing from the team of Tron. Technologically speaking, the coin will grow in the second half of 2019 and is expected to be priced at over 0.040 USD by the end of the year. From a 5-year perspective, the price can reach as high as 5 USD.