Traditional blockchains like Bitcoin and Ethereum have a drawback. They cannot scale with the growth of their user base, which leads to slow transactions and higher fees. It was necessary to have similar payment systems for retail transactions, and Bitcoin Cash was created to solve this problem. Bitcoin Cash is the forked version of Bitcoin. 
Blockchain developers came with a new protocol of software based on the Bitcoin algorithm, but many users disagreed with this change, so they created a new version of Bitcoin, which is known as Bitcoin Cash. BCH is the native coin of this platform. The original Bitcoin investors got the same amount of Bitcoin Cash when BCH was introduced in the market with an Initial Coin Offering in 2017. 
The best part is it offers peer-to-peer electronic transfer without the help of any central authority like a bank. It is the upgraded version of Bitcoin that offers faster transactions and more security. It offers lower fees compared to the original version of Bitcoin. Since its inception, it has become a popular cryptocurrency. In 2022 many merchants will accept BCH as their preferred payment mode.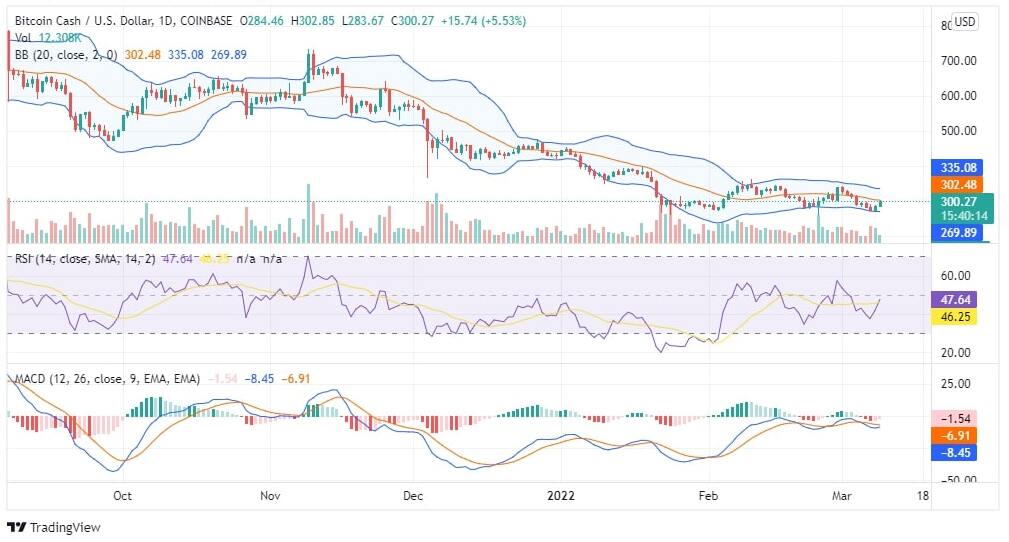 At the time of writing this analysis, BCH/USD is trading around $300, and this cryptocurrency has been consolidating this year. We can find sidewise movement in the range of $345 and $270. That is why the chart is not suitable for long-term investment because we do not know how long this sidewise movement will continue. 
On the daily chart, the MACD is bearish; the RSI is stable at 47. The candlesticks are around the baseline of the Bollinger Band, which may come to the support level of $270 again within a few days. According to the BCH price prediction, you should not invest in this coin. Let's analyze the long-term/ weekly chart for better understanding.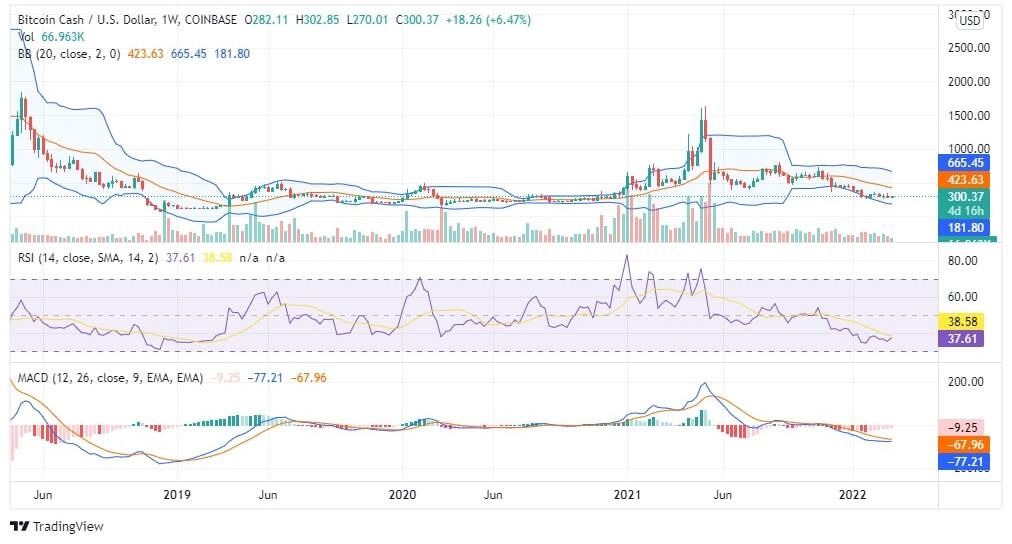 Investors enjoyed huge growth till the first half of 2021. From the month of May, it turns bearish. Since then, it has been consolidating, and no one can predict how long it will continue because it is a cryptocurrency and it does not have strong fundamentals to identify the problem. 
We would not suggest you invest for a long time until it crosses the level of $800. Even short-term investors should avoid this chart. There are many coins, which will give you better returns in the future, and you should try those coins. Indeed, you have to check the price of BCH/USD, but the future will depend on the market adoption.